HMS Revenge (BB-1916)
Back to Commonwealth Ships List


The Royal Sovereign Class battleships were the Iron Duke with a 15" main armament. As ordered the Royal Sovereign Class were to be a class of 7 ships but two were redesigned as battlecruisers (see Renown). Less graceful and speedy than the Queen class they were massive and powerful ships for their time. These were the last 'slow' battleships built by Britain. In the 'Fisherless RN' the last two ships are cancelled and reordered as Barfleur class ships. The first five were too far advanced to repurpose the orders. What that does is to make eight twin 15" turrets available for arming monitors with.




What to do with the 'R' class. In the past (see drawings at bottom of page) I have looked at rebuilding the ships and sticking some extra propulsion into the hull to get them to 25 knots to go with the Queen Elizabeth Class and the rebuilt Iron Duke class vessels. In reality there is just not enough room, on and in the hull, to do what is necessary to get modern capital ships out of the 'R's. As part of the Fisherless RN, I did a set of drawings based on the premise that a lot of the armour and armament are cannibalised from the 5 'R' class ships (see Admiral Class). Each new ship required one set of main armament and three belts of 13" armour, which meant that only two sets of armour would be needed for a new set of 5 battleships. What are you left with? A ship with no side armour, no main armament but a 4" set of deck armour and serviceable engines. Five of them. 620x89 feet. How about converting the remains to escort carriers? The removal of parts for the new ships would be 1937-1939, conversion of the remains 1939-1940. Five new escort carriers with 30 aircraft each arriving on station in the Atlantic during 1940? Miracles do happen from time to time.

Andrew Arthur's very good drawing of HMS Revenge in its 1918 outfit with ramps on B and X turrets for aircraft launching.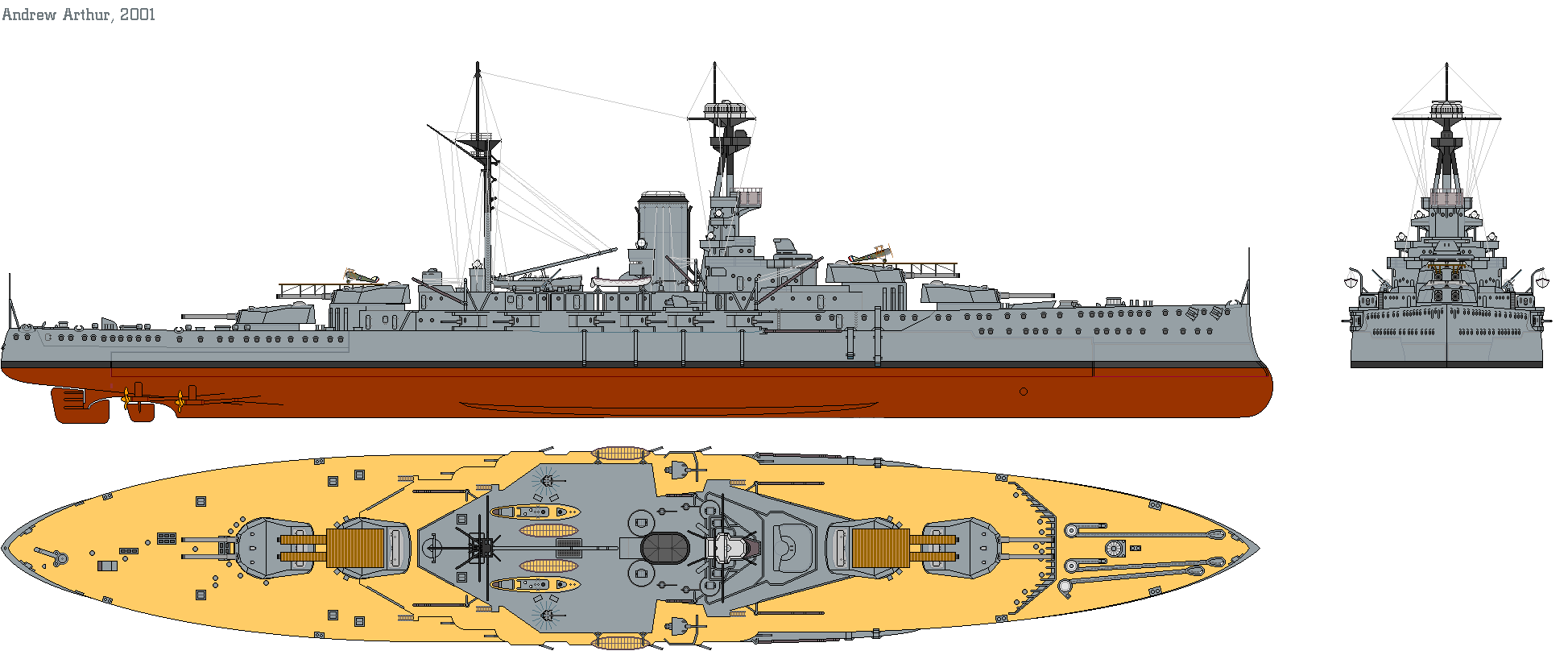 The ships were a very basic conversion compared to some others. However, when it was considered that the most prevalent kind of damage these ships might take would be from torpedoes and bombs, the bulging, that had previously been fitted, was replaced once the side armour had been removed. The 4" armoured deck was better than most for keeping out bombs. With 16 Swordfish and a dozen Griffons aboard, the ships were invaluable in the North Atlantic.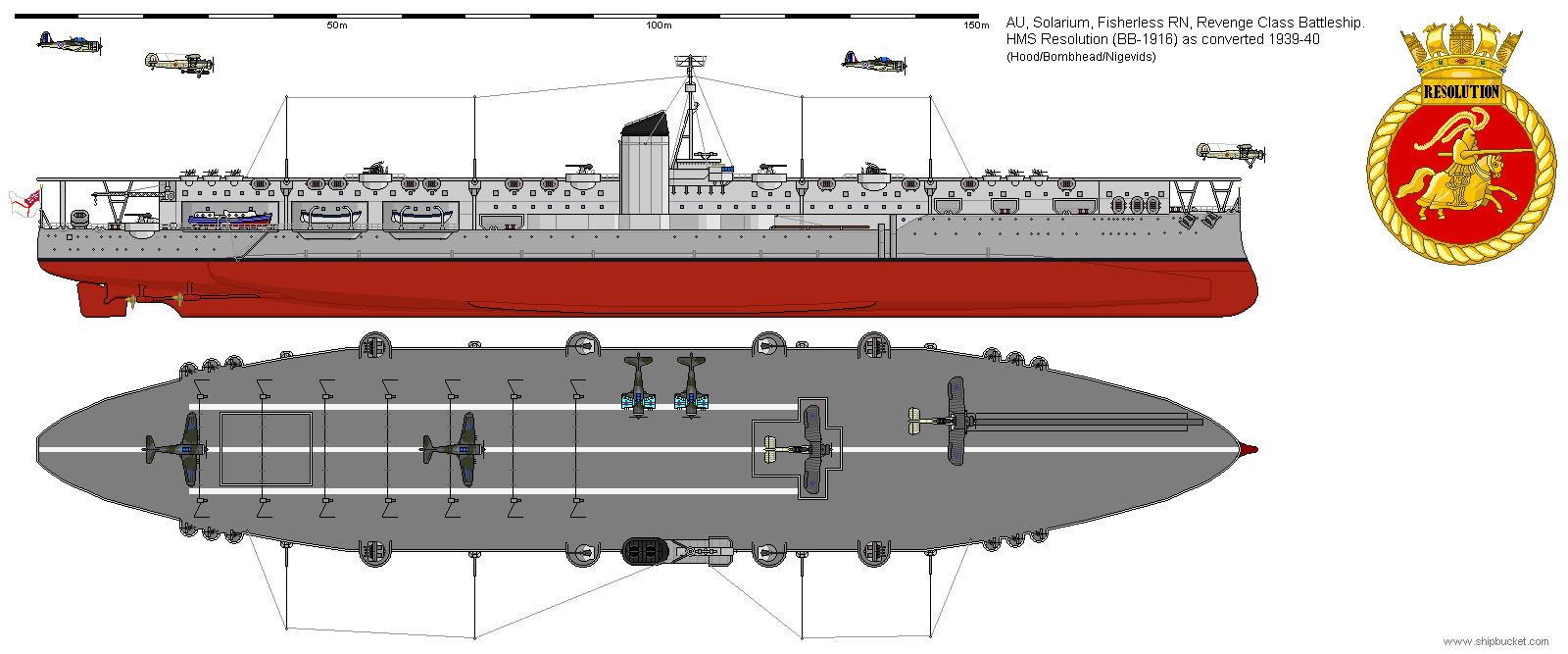 Displacement
26,000 tons std, 31,500 tons full load
Length
624 ft
Breadth
88.5 feet (hull) 98 feet over bulges, 104 feet over flight deck
Draught
28 ft
Machinery
4 shaft geared turbines, 40,000shp
Speed
22 knots
Range
5500 at 14 knots
Armour
4" deck, bulges
Armament
6 x 4" (6x1)
16 x 2pd (4x4)
12 x 20mm (12x1)
Aircraft
28
Complement
1000
Notes
HMS Revenge 03/16

HMS Royal Sovereign 05/16

HMS Royal Oak 05/16

HMS Resolution 12/16

HMS Ramillies 09/17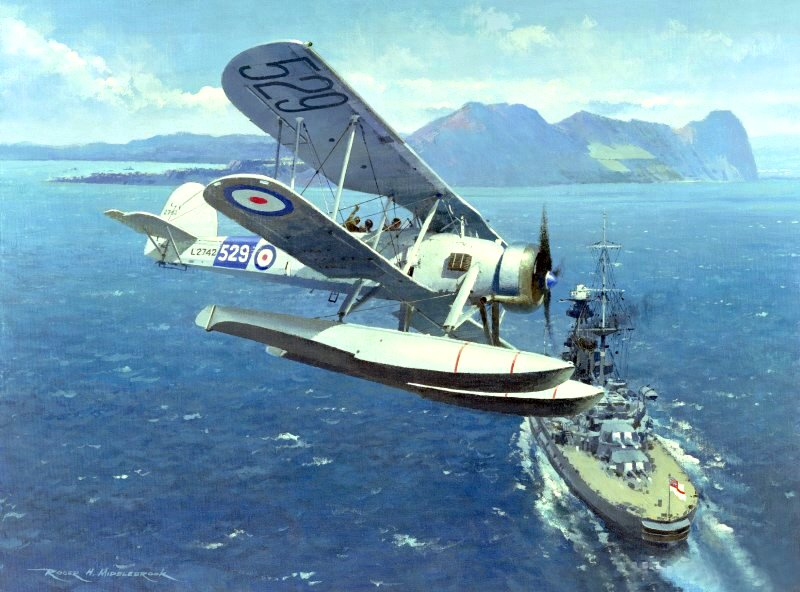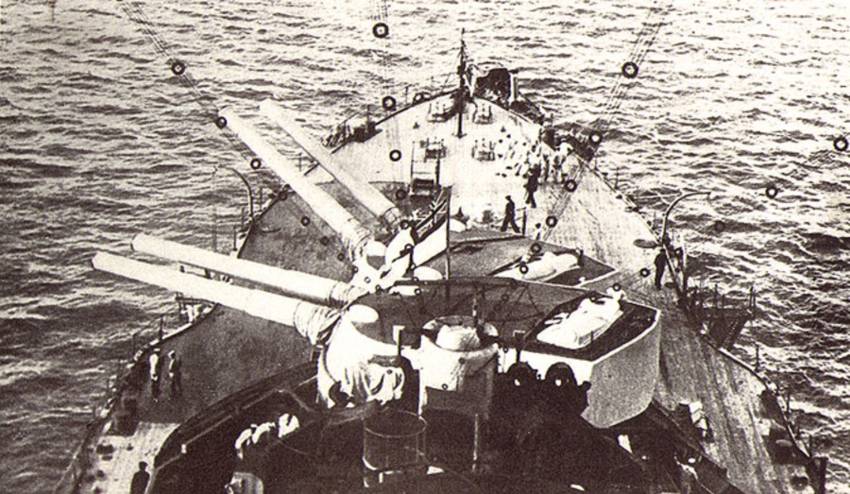 Forward turrets of R class battleship. Below the Royal Sovereign Class ships of the 1930's.


Old drawings of R class battleships.


In 1929 with the completion of Rodney the Resolution was transferred to the Southern African Navy, where she served out the rest of her service life. Being in Africa meant that Resolution was rebuilt out of synch with her sisterships and was rebuilt under Southern African Navy policies rather than Royal Navy ones. This gave two very distinct looks between the African and Royal Navy ships as seen by their side views.

Displacement
28,000 tons std, 32,500 tons full load
Length
624 ft
Breadth
88.5 ft (hull)
Draught
28 ft
Machinery
4 shaft geared turbines, 70,000shp
Speed
25 knots
Range
4500 at 16 knots
Armour
13" side, 4.5" deck, 13" turrets
Armament
Royal Navy

8 x 15" (4x2)

16 x 5.25" (8x2)

40 x 2pd (5x8)

8 x 40mm (8x1)

Southern African

8 x 15" (4x2)

16 x 4.5" (8x2)

40 x 2pd (5x8)

12 x 20mm (4x2 4x1)

Aircraft
nil
Torpedoes
nil
Complement
1200
Notes
HMS Revenge 03/16

HMS Royal Sovereign 05/16

HMS Royal Oak 05/16

HMSAS Zimbabwe (ex Resolution) 12/16

HMS Ramillies 09/17