HMS Iron Duke (BB-1913)
Great Britain built 4 and Australis built 2 of the Iron Duke class. The Washington Treaty made 2 of the Great Britain Iron Dukes excess and to be discarded at the completion of the two Nelson class ships. The thought of discarding 10 year old battleships which could survive another 15 years in service was not a happy thought. So the two Iron Dukes from the Royal Navy were 'sold' to the Australis navy under a lease scheme. Sail now pay later. The two ships arrived in Brisbane in 1928 and were commissioned into the Australis navy as the HMAS Marlborough (retained its name after a province in New Zealand) and HMAS Waikato (ex Emperor of India). These ships joined the Australis' Iron Dukes HMAS Illawarra and HMAS Gippsland as the Eastern Fleet charged with keeping the seas from Cape York down the east coast in safe hands. The other two ships were sent to Southern Africa as part of that Dominions start-up fleet. Those ships became the HMSAS Namibia and HMSAS Limpopo.
The rebuilding of the 4 Australis Dukes started in 1935 and they were finished by 1938. They created the standard for all the Australis rebuilds to come. The removal of Q turret and casemate 6", the fitting of new superstructure, engines and boilers, and a complete new anti-aircraft outfit. Other upgrades that could have been done was a complete new bow section. But how much money do you spend on a 20 year old battleship? The changes to superstructure were necessary as much to make space for the better gunnery directors required for main and dual-purpose armaments. The removal of the central 'Q' turret was condoned to give space for a better propulsion system as well as making displacement available for better deck armour. Sacrifice 20% of your firepower to improve the ships survivability rating, no contest. The original 2" deck being replaced with a 5" deck. The comparrison above to below shows the amount of work that was required to rebuild the Iron Duke types into modern capital ships.





The Southern African ships followed the Australis Dukes in their rebuilds, but differed in details. Where Australis was using the 4.5" BD mounting the SA units were using the MkVI turret mounted 4.5" guns. The bigger turret meant fewer guns, 16 instead of 20.





Iron Duke class ship HMS Benbow at Malta 1921.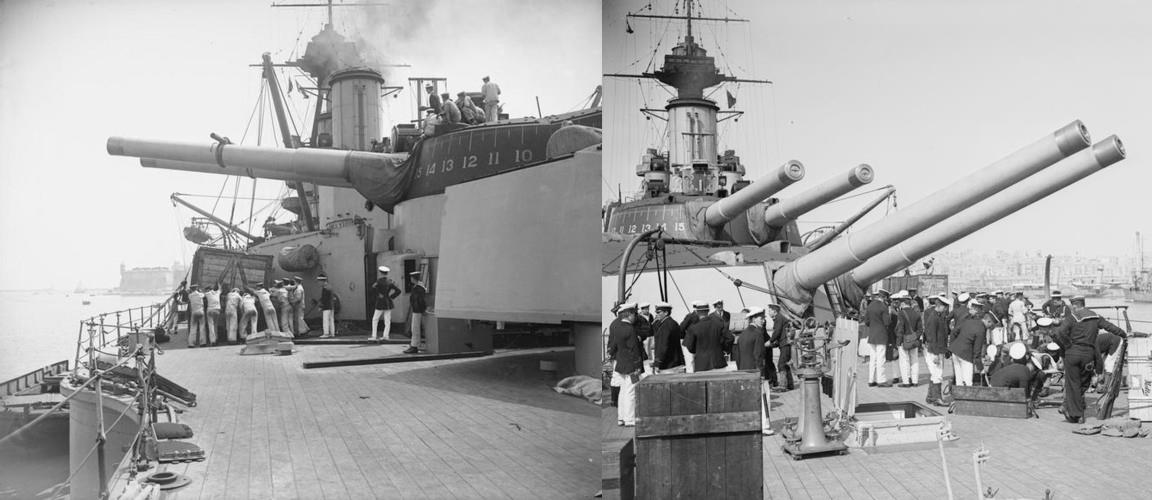 Displacement
27,400 std 32,500 tons full load
Length
623 ft
Breadth
90 ft (102 ft over bulges)
Draught
30 ft
Machinery
4 shaft steam turbines, 80,000shp
Speed
25-26 knots
Range
7000 miles at 14 knots
Armour
12" side, 5" deck, 11/9/5" turrets
Armament
HMAS Marlborough 1940

8 x 13.5" (4x2)
20 x 4.5" (10x2)
32 x 2pd (4x8)
14 x 20mm (14x1)
HMSAS Namibia 1938

8 x 13.5" (4x2)
16 x 4.5" (8x2)
32 x 2pd (4x8)
18 x 20mm (18x1)
Aircraft
3
Torpedoes
nil
Complement
1300
Notes
HMSAS Namibia (ex Iron Duke)

HMSAS Limpopo (ex Benbow)

HMAS Waikato (ex Emperor of India)

HMAS Marlborough

HMAS Illawarra

HMAS Gippsland
Forward layout of Iron Duke class battleship.