PCS S-01 (MTB-1938)
Return to Polithstovian Navy Page:
In 1937 as part of the Emergency Naval Procurement measures the Polithstovian Navy contracted with the British firm of Vospers for the acquisition of two Motor Torpedo Boats and the plans and rights to build six more under license. The two boats built by Vospers were received in March 1939. Plans were then made to lay down a further two at six monthly intervals until the six contracted boats were completed in late 1941. The war intervened with the first pair less than 50% completed and they were destroyed on their slips as the Germanic States forces advanced toward their builders yard. The completed pair were stationed in the East and were lost in a successful attack on the Russian cruiser Makarov that was providing fire support for the advancing Russian forces in the second week of the war.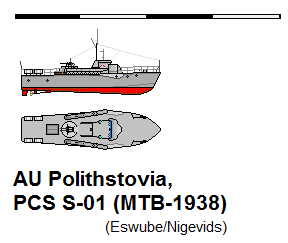 The Vosper design was their current 70ft boat with twin machine guns, two 18" torpedoes and four depth charges at the stern. With a maximum speed of 38 knots from their petrol engines the boats were fast and manoeuvrable.
The boats did not have the range to be evacuated with the other major units of the Polithstovian Navy.
Displacement
43 tons standard, 52 tons full load
Length
70 ft
Breadth
19 ft
Draught
3-4 ft
Machinery
2 shaft petrol engines,3,000shp
Speed
38 knots
Range
500 miles at 15 knots (250 @ 35 knots)
Armament
2 x 13mm mg (1x2)
Torpedoes
2 x 18" (2x1)
Complement
14
Notes
PCS S-01 - Sunk by gunfire from Makarov and Escorts 09/1939

PCS S-02 - Sunk by gunfire from Makarov and Escorts 09/1939