PCS Mount Rysy (MS-1938)
Return to Polithstovian Navy Page:
With the Lake Peipus minesweepers fast coming up on 20 years of age a new set of replacement minesweepers were sought. Four pairs were to be built, with the first pair to be laid down in 1936 and the last pair by 1940. Only the first two pairs had been completed by the outbreak of war while the third pair were destroyed on the slips to prevent their capture by the Germanic States forces. The four ships completed were sent to British waters with the rest of the fleet in 1939. The same diesel installation as fitted in the Narva River class escorts were also fitted to these ships, giving them a useful turn of speed and range.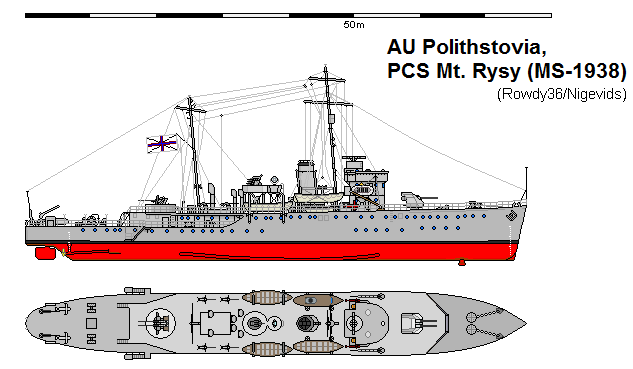 As completed the ships had a powerful AA armament with the twin 4" mounting forward, the new twin 40mm Bofors mounting aft and a battery of 20mm singles and a quad 0.5in mounting amidships. The only change made to this armament was the replacement of the quad 0.5in mounting with a twin 20mm mounting during 1941/42. This heavy AA armament made them naturals for use around the coasts of Britain where the chances of air attack were high.
Displacement
950 tons std, 1,375 tons full load
Length
251 ft
Breadth
34 ft
Draught
9 ft
Machinery
2 shaft SK Diesels, 10,000 bhp
Speed
24 knots
Range
2800 miles at 15 knots
Armament
2 x 4" (1x2)

2 x 40mm (1x2)

4 x 20mm (4x1) (later 6)

4 x 0.5 in mg (1x4) deleted from 1941

Complement
84
Notes
PCS Mt Rysy