PCS Lake Peipus (MS-1916 (1932-mod))
Return to Polithstovian Navy Page:
The first four of the eight Belvoir Group minesweepers to be transferred to Polithstovia were already in the Baltic when they were transferred to the Polithstovian Navy. These four sweepers had been assisting with the removal of minefields throughout the Baltic Sea areas during 1919. With the rise of the Communist Revolution in Russia the ships were also used for minefield maintenance of the fields laid between the border areas of Polithstovia and Russia. Those fields were supposed to have been removed in 1920 but the Revolution meant they were kept in place well into the late 1920's.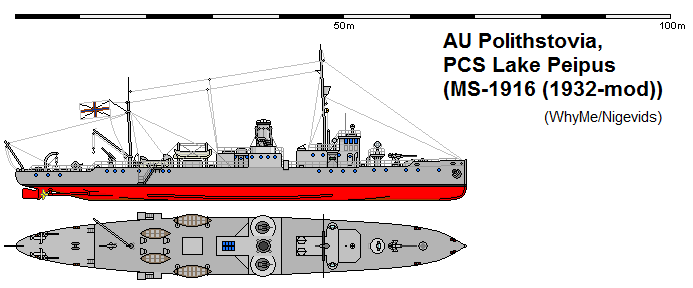 The Belvoir type minesweepers were typical of their type. Built to mercantile standards the class exceeded a hundred units by the time the last ships were completed in 1919. The original armament on the first 1916 completed units was a single 4" forward and a 12 pounder aft. Two single 2 pounder AA guns were added in 1917-18. In Polithstovian service the basic armament was kept till 1928 when the single 2 pounder were replaced with two tubs of the new 0.5" quad AA machinegun mountings. The single 12 pounder aft was replaced with a 3" AA gun during the 1930's. Various 20mm and other cannon armaments were added and deleted during WW2. Four of the remaining seven vessels (one was lost in a mine explosion in 1924) went with the fleet to Britain in 1939 and spent their war around the coasts of the British Isles. The remaining 3 captured by the Germanic States forces in 1939 did not survive the war and were sunk in action.
Displacement
750 tons std, 1,050 tons full load
Length
231 ft
Breadth
28 ft
Draught
8 ft
Machinery
2 shaft triple expansion, 1800ihp
Speed
16 knots
Range
1800 miles at 10 knots
Armament
1 x 4" (1x1)

1 x 3" AA (1x1)

8 x 0.5"mg (2x4)

Complement
65-75
Notes
PCS Lake Peipus