IJN Tone (CL-1910) IJN Chikuma (CL-1912)
Return to Japanese Navy page:


The Tone and Chikuma class were four protected cruisers built for Japan, Tone -1910, Chikuma class - 1912. A short note - 'protected' cruisers had an armoured deck, but no armoured belt. The two classes were built to emulate the British production of the time. The Tone was equivalent to the Gem/Scout cruisers while the Chikuma class was equivalent to the British Town class. The Tone was the last Japanese cruiser to have triple expansion propulsion. Because of this it was discarded prior to WW2. (Stricken from Navy List 1931 - expended as a target 1933.) Reading the individual records of the Chikuma Class in Wiki, the ships are all credited with a 3.5" armoured belt.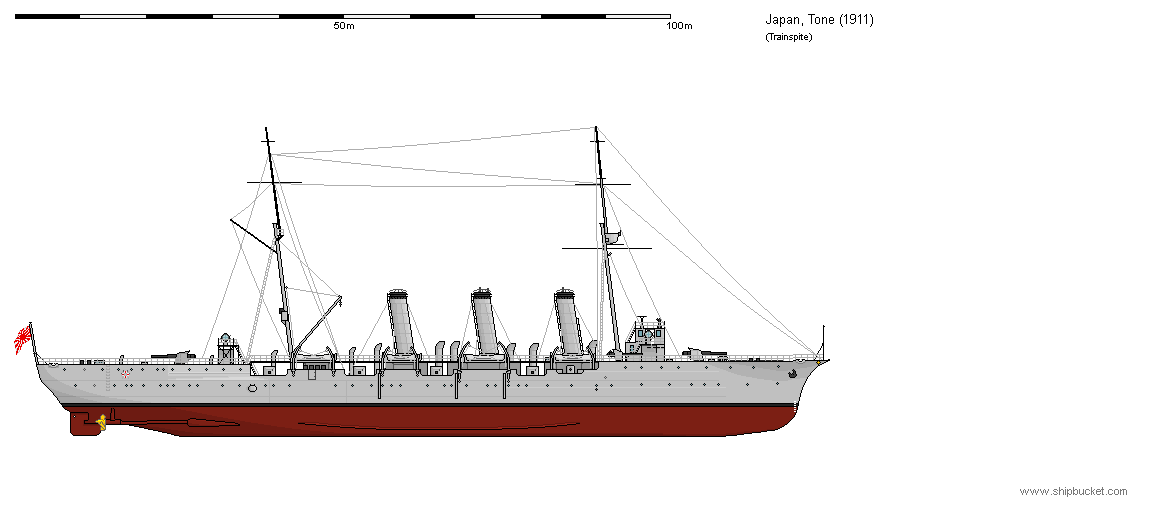 The Chikuma class were all fitted with turbine machinery, which while being an advance on the Tone, the turbines were still an unknown quantity in Japanese service and the ones fitted to the Chikuma Class had problems. Like a lot of cruiser sized vessels the Chikuma class was kept in service past its best before date. Like all navies, the Japanese were always short of cruisers and even three clapped out dockyard queens like the Chikumas could be useful. The usefulness ended after their China service 1937-39 when it became almost impossible to keep their turbines in a condition that would move the ships. All three ships had been reduced to harbour hulks / barracks / accommodation ships. By 1943 they had been stricken and scrapped their armaments going to help arm the numerous small islands under Japanese control.




Above is BB1987's drawing of a Chikuma class cruiser for his fictional AU Koko.

I had hoped to be able to use the Chikuma class as escort cruisers with the fore and aft 6" retained and the broadside guns replaced with 3" AA. Reading about the unreliable engines put paid to that. I could wave my magic wand and give them reliable engines, or replace them. My thought to replace the engines would be to buy three sets of 40,000shp turbines from the cancelled C and D class British cruisers. The other side is whether the Japanese would want to expend this amount of resources on what were already 10 year old obsolete cruisers. The Kuma class were under construction and resources were better put into them than the Chikumas.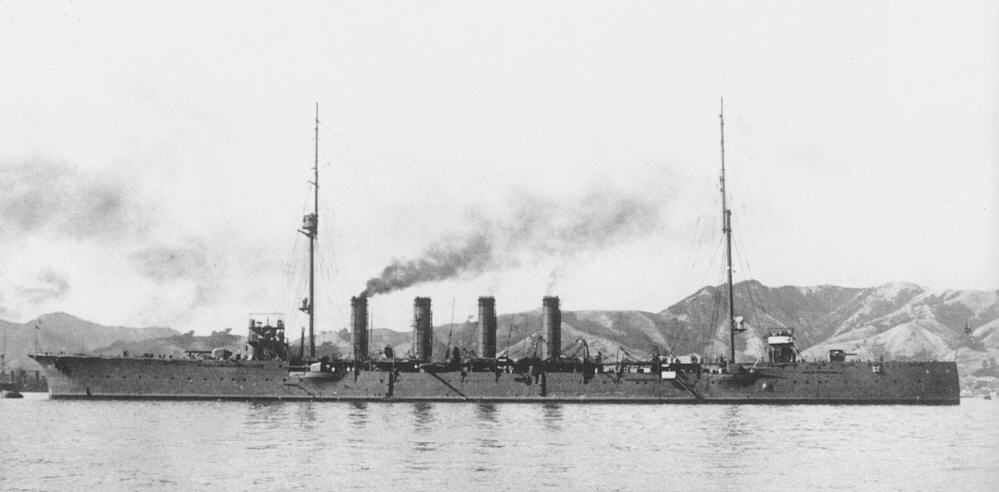 Chikuma Class
Displacement
5,225 tons standard, 6,100 tons full load
Length
475 ft
Breadth
47 ft
Draught
19 ft
Machinery
2 shaft Steam turbines, 22,500shp
Speed
26 knots
Range
10,500 miles at 10 knots
Armour
3.5" belt, 2.5" deck
Armament
8 x 6" (8x1)
4 x 3" LA (4x1) only 2 guns after 1922
2 x 80mm AA (2x1) fitted 1922
Torpedoes
3 x 18" (3x1) removed 1928
Complement
415
Notes
IJN Tone (1911)

IJN Chikuma (1912)
IJN Hirado (1912)
IJN Yahagi (1912)

IJN Hirado in Cockatoo Dockyard, Sydney, Australia, 1917.