IJN Kongo (BC-1914)
Return to Japanese Navy page:


The Kongo was the last capital ship completed outside of Japan for the Japanese Navy. The other three ships of the class were all completed in Japan. The other major thing this class did was to add the twin 14" turret to the Japanese armoury. Beside the 16 turrets for this class, another 24 were built for the Fuso / Hyuga classes.

I will not be trying to do new drawings for the Kongo class. The ships were as good as they could be designed pre-WW1 and the Japanese rebuilds and enhancements over the years were typically Japanese for the time. I have always liked the Kongo's as they were. Big, powerful ships, they were better than the British 'Splendid Cats' of the Lion/Tiger types. The penetration power of the 14" gun being far better than the 13.5" gun. The battlecruiser fight at Jutland might have been a bit different with a couple of Kongo types in place of the Lions.




Most of the information provided below is sourced and copied directly from Wikipaedia.
During the late 1920s, all but Hiei were reconstructed and reclassified as battleships. After the signing of the London Naval Treaty in 1930, Hiei was reconfigured as a training ship to avoid being scrapped. Following Japan's withdrawal from the treaty, all four underwent a massive second reconstruction in the late 1930s. Following the completion of these modifications, which increased top speeds to over 30 knots (56 km/h; 35 mph), all four were reclassified as fast battleships.



The Kongō-class battleships were the most active capital ships of the Japanese Navy during World War II, participating in most major engagements of the war. Hiei and Kirishima acted as escorts during the attack on Pearl Harbor, while Kongō and Haruna supported the invasion of Singapore. All four participated in the battles of Midway and Guadalcanal. Hiei and Kirishima were both lost during the Naval Battle of Guadalcanal in November 1942, while Haruna and Kongō jointly bombarded the American Henderson Field airbase on Guadalcanal. The two remaining Kongō-class battleships spent most of 1943 shuttling between Japanese naval bases before participating in the major naval campaigns of 1944. Haruna and Kongō engaged American surface vessels during the Battle of Leyte Gulf in late October 1944. Kongō was torpedoed and sunk by the submarine USS Sealion in November 1944, while Haruna was sunk at her moorings by an air attack in Kure Naval Base in late July 1945, but later raised and scrapped in 1946.




There is quite a difference between Kirishima above and Haruna below with only two years between the drawings. War really does compress research and development.



The Kongo class spent a lot of time in dockyard hands with the amount of work that was done to the ships in their 30 odd years of service.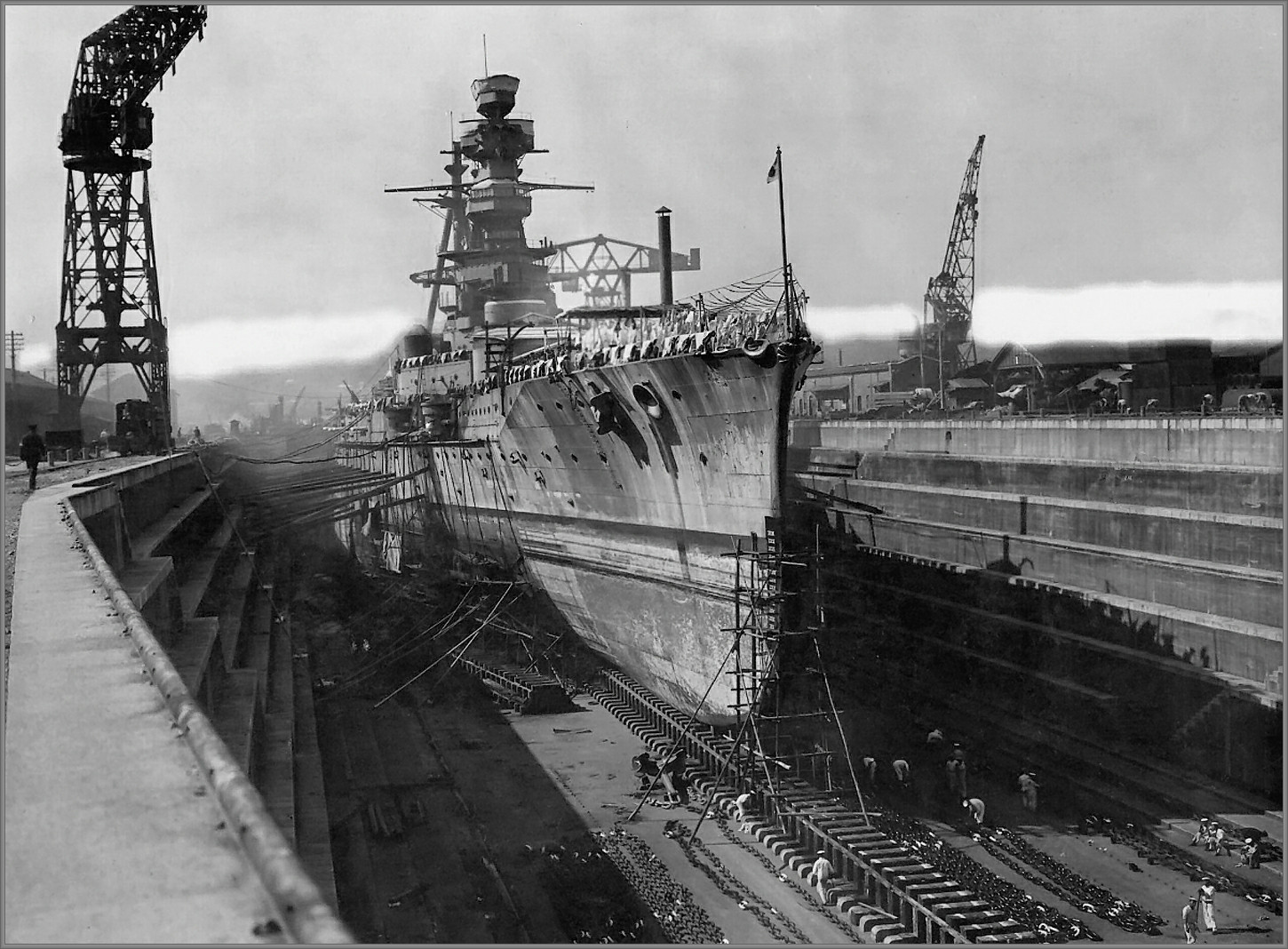 General characteristics (Haruna as built)
Type:
Battlecruiser
Displacement:
27,384 tonnes (26,952 long tons)
Length:
214.58 m (704 ft 0 in)
Beam:
28.04 m (92 ft 0 in)
Draft:
8.22 m (27 ft 0 in)
Installed power:

64,000 shp (48,000 kW)
36 × Yarrow boilers

Propulsion:

4 shafts
2 × steam turbine sets

Speed:
27.5 knots (50.9 km/h; 31.6 mph)
Range:
8,000 nmi (15,000 km; 9,200 mi) at 14 knots (26 km/h; 16 mph)
Complement:
1,193
Armament:

4 × twin 356 mm guns (Vickers 14 inch/45 naval gun)
16 × single 152 mm guns
4 × single 76 mm AA guns
8 × 533 mm (21.0 in) torpedo tubes

Armor:

Waterline belt: 203–76 mm (8–3 in)
Deck: 25 mm (1 in)
Gun turrets: 229–254 mm (9.0–10.0 in)
Barbettes: 254–76 mm (10–3 in)
Conning tower: 229 mm (9.0 in)?

General characteristics (Haruna, 1945)
Type:
Fast battleship
Displacement:
32,156 tonnes (31,648 long tons) (standard)
Length:
219.61 m (720 ft 6 in)
Beam:
33.1 m (108 ft 7 in)
Installed power:

136,000 shp (101,000 kW)
11 × water-tube boilers

Propulsion:
4 × steam turbines
Speed:
30.5 knots (56.5 km/h; 35.1 mph)
Range:
10,000 nmi (19,000 km; 12,000 mi) at 18 knots (33 km/h; 21 mph)
Complement:
1,500+
Sensors and
processing systems:

1 × Type 21 air search radar
2 × Type 13 early warning radar
2 × Type 22 surface search radar

Armament:

4 × twin 356 mm guns
8 × single 152 mm guns
6 × twin 127 mm (5 in)/40 dual-purpose guns
118 × Type 96 25 mm (0.98 in) AA guns
30 × depth charges

Armor:

Deck: 120–80 mm (4.7–3.1 in)
Barbettes: 343 mm (13.5 in)

Aircraft carried:
3 × floatplanes
Aviation facilities:
1 × catapult