IRN Zouga (DD-1932/34)
The Royal Navys A-I class destroyers were also the most exported destroyer type till that date. Many nations either having them built for them or building the designs under license. The Iberians built eight under license. The ships were to be the first Iberian ships armed with the new 4.5" weapon system that was also licensed at the same time. Unfortunately troubles with production of the 4.5" meant that the first pair had to be completed with single 4" guns that were on the dual-purpose high angle / low angle mounting. These two ships were to be converted to the 4.5" at a later date but the funds were never made available for this.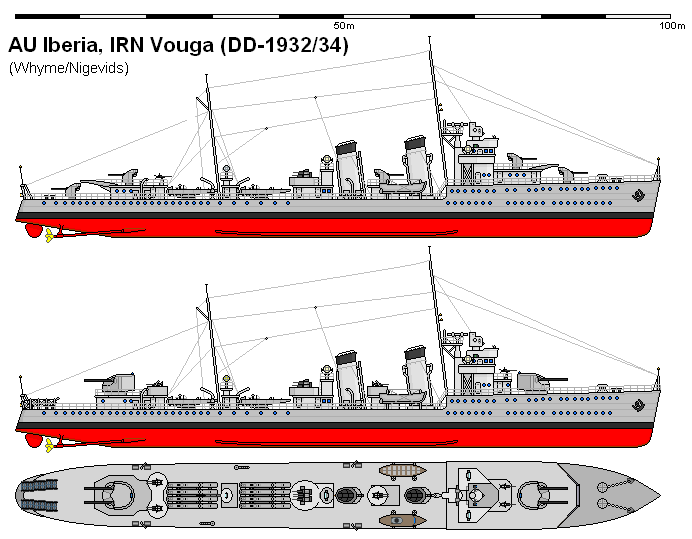 Those ships with the 4.5" guns were far superior to the first two units. The 4.5" guns fired further, fired bigger shells, and fired as fast as the 4". Two quad sets of torpedoes, one quad 2 pounder and a host of 20mm made these destroyers a force to be reckoned with.
Displacement
1,500 tons std, 1,950 tons full load
Length
322.5 ft
Breadth
34 ft
Draught
11 ft
Machinery
2 shaft geared turbines, 33,000shp
Speed
35/36 knots
Range
3500 at 15 knots
Armour
1.5" turrets (20mm 4" shields)
Armament
4 x 4.5" (2x2) early (5 x 4" (5x1))

4 x 2pd" (1x4)

8 x 20mm (3x2 2x1) early (4x20mm)

Torpedoes
8 x 21" (2x4)
Complement
130
Notes
IRN Vouga