IRN Salamanca (CLA-1942)
Based on the hull and superstructure of the successful Malaga class light cruisers, the Salamanca class rearranged the main armament to fit a set of five dual purpose 4.5" turrets in place of the four twin 5.5" turrets. The four sets of triple torpedos were reduced to two and resited. The twin 37mm heavy AA were replaced with quad 2 pounder mountings. Twin and single 20mm were fitted where space was available.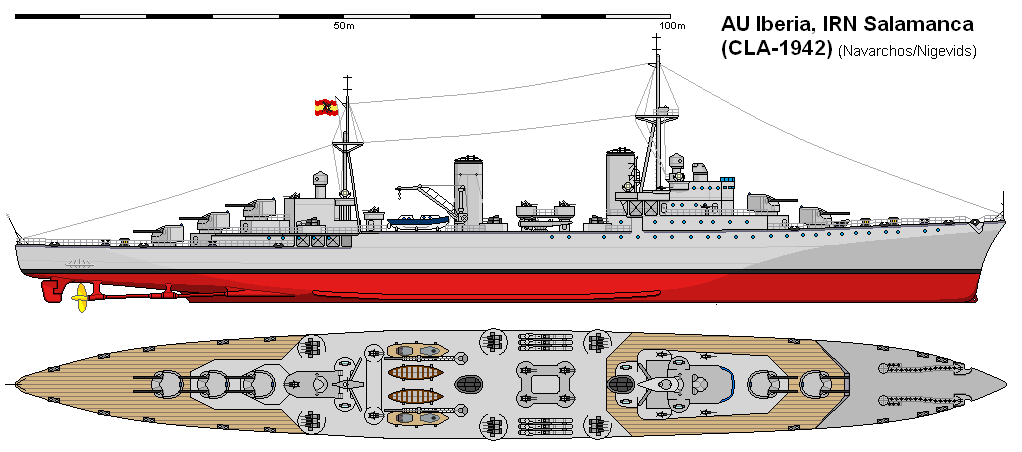 The last Malaga class ships was completed in 1935 while the first of the Salamanca class were laid down in 1938. Being able to duplicate parts already built should have saved building time, but the war intervened and the supply of materials required to build the ship slowed to almost nil till the fall of France in 1940 where land links were made. The ships took 4 1/2 years to build instead of the expected 3 years.
Displacement
6,650 tons std, 7,900 tons full load
Length
495 ft
Breadth
53 ft
Draught
15 ft
Machinery
2 shaft geared turbines, 75,000shp
Speed
34 knots
Range
5000 at 12 knots
Armour
2" side, 1.5" deck, 1" turrets
Armament
10 x 4.5" (5x2)

24 x 2pd (6x4)

18 x 20mm (7x2 4x1)

Torpedoes
6 x 21" (2x3)
Complement
525
Notes
IRN

Salamanca

Twin 4.5" turrets as fitted to the Salamanca class. Below: the 2 pounder quad mountings.