IRN Pelayo (BB-1910 (TS-1927))
While the ex Germanic States Battleships had been purchased to provide the armament and armour for new ships, the use of the ships till that took place was important in helping to train the thousands of new crewmen that would be required by the new ships being built. The Pelayo stayed as a battleship from when it arrived in Iberian waters in 1920 through to 1926 when it was taken in hand to strip the required parts off of it and to convert what was left to a training ship.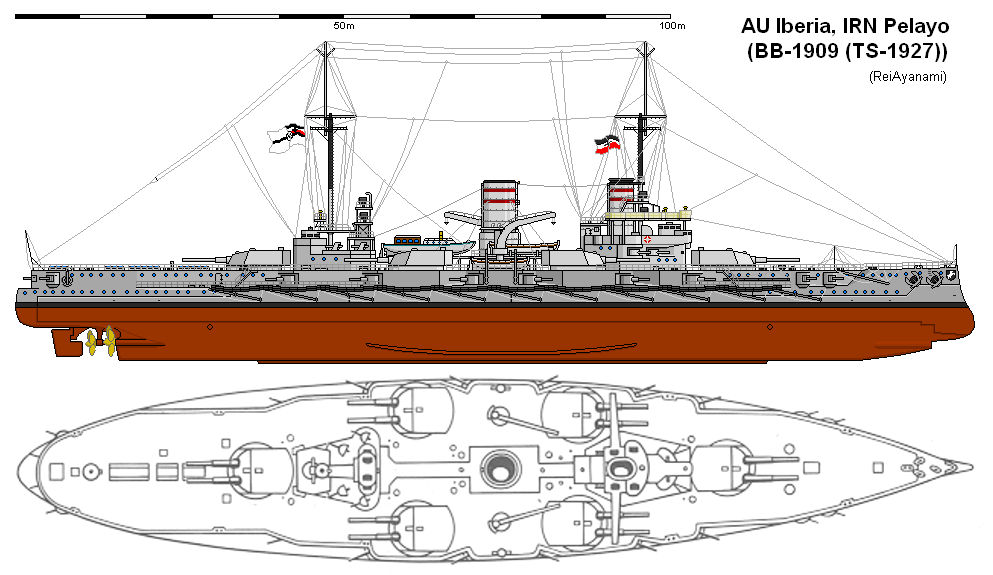 The conversion was simple. The removal of the echelon turrets, forward boiler rooms, armament and armour left lots of room to build a new 'cadet deck'. A two tier accomodation, office and class rooms block was built between the turrets.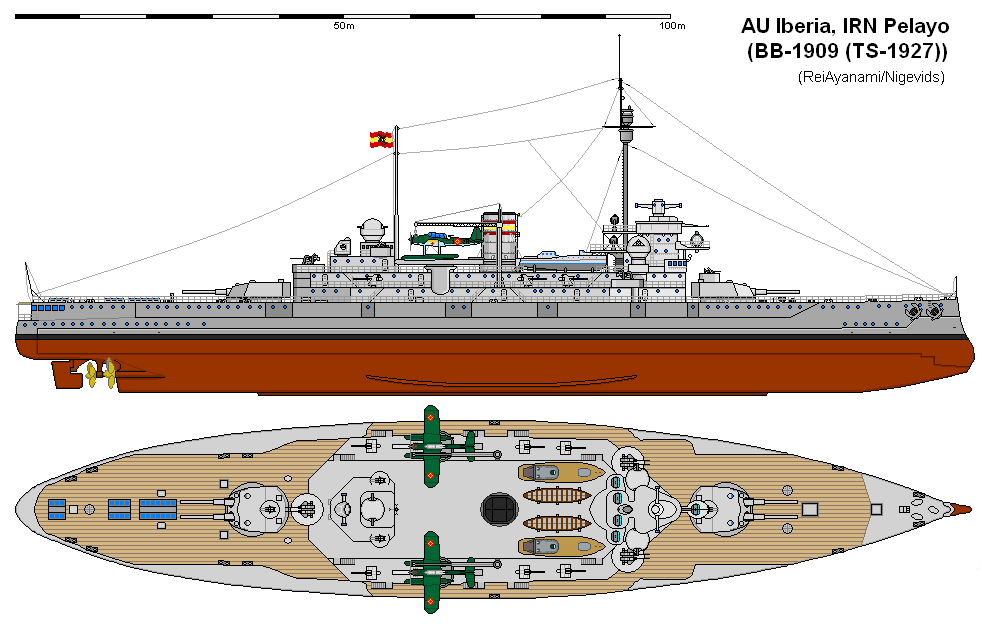 Two catapults were fitted for training both seaplane pilots and the service personnel for the aircraft. Having been converted pre-1930 the ship was fitted with the 3.4"/88mm guns instead of the later 4.5" guns on the Zaragoza training ships. The 88mm guns were upgraded in 1938 to the 88/L56 1936 model AA guns. 37mm and 20mm light AA guns rounded out the armament.
Displacement
As Built

18,800 tons std, 22,750 tons full load

As Training Ship

17,100 tons std, 21,700 tons full load

Length
478 ft
Breadth
89 ft
Draught
28 ft
Machinery
3 shaft Triple Expansion, 14,000shp
Speed
15 knots
Range
6000 miles at 12 knots
Armour
12" side, 5" deck, 12-8" turrets
3" side, 2.4" deck, 12"-8" turrets
Armament
As built

12 x 11" (6x2)

12 x 5.9" (12x1)

16 x 88mm (16x1)

As rebuilt

4 x 11" (2x2)

6 x 3.4" (6x1)

6 x 37mm (3x2)

8 x 20mm (4x2)

Aircraft
nil
2
Complement
1100
600+Cadets+Marines
Notes
IRN

Pelayo