IRN Numancia (DD-1915 to 1921)
The Iberian Navy built four of the Hawthorn Leslie design of the Royal Navys 'M' class destroyers. The Iberians laid down their first in 1916, two more in 1917 and a final unit in 1918. This gave completion dates of 1919 to 1921. In 1919-1920 the Royal Navy started to divest itself of all the excess shipping that was no longer required. Part of this excess was the 'M' class of destroyers. The first of the class to be sold were the non-RN designed vessels. This included 2 Hawthorn type (same as built by Iberia), 14 Yarrow type, 6 Thornycroft type, and 3 ex-Greek type, for a total of 25 ships. One was rejected and the Iberians purchased the other 24 for what was virtually scrap value prices.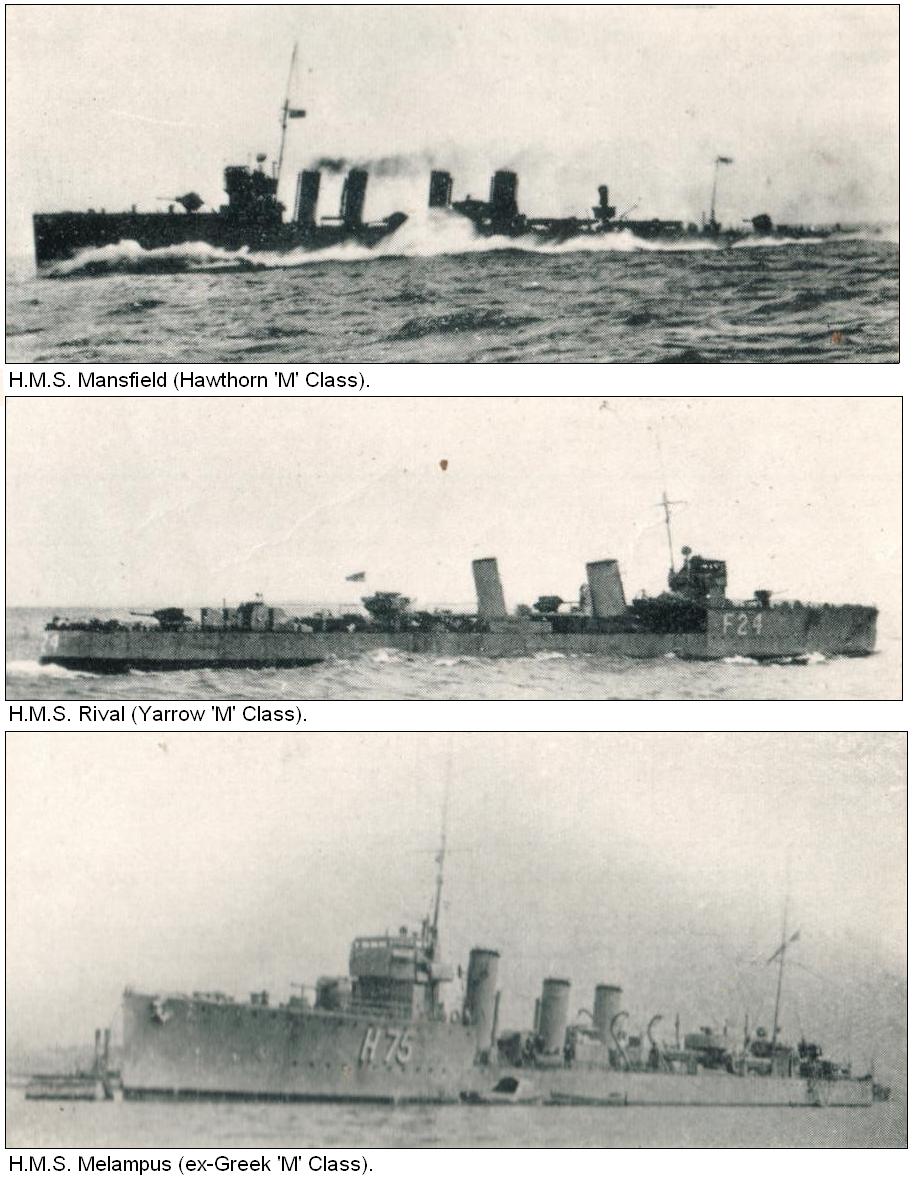 As can be seen the ships were not of a set, some ships had two, some three and some four funnels. The Iberian built ships were of the 4 funnel type. The dimensions were of a set standard while the internal divisions made by the propulsion systems of each type did make differences in the layout of each sub-type. All of the ships were completed with three 4" with one sited on the foredeck, one between the funnels and one on the stern. Over the course of the war one or two 2 pounder AA guns were fitted.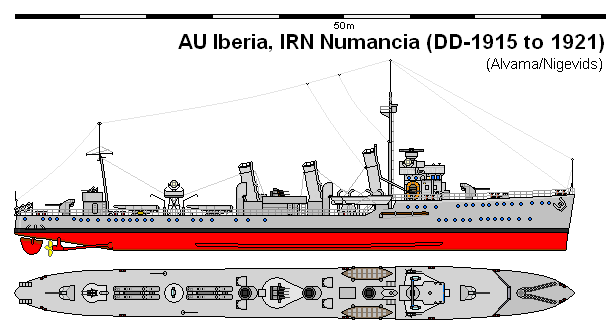 From 1930 onwards the ships were surveyed as to the future service they could give to the Iberian Navy. 20 vessels were retained with the other eight either being kept in reduced roles or sold/scrapped. The retained vessels were put through a series of refits to upgrade the ships fighting value. This included the upgrading of the low angle 4" to a dual purpose mounting. Removing the centre 4" mounting and replacing it with a quad 2 pounder pom pom mounting. The single 2 pounder guns being replaced by 20mm guns when these become available in the later 1930's.
Displacement
1,050 tons std, 1,450 tons full load
Length
276 ft
Breadth
27 ft
Draught
9 ft
Machinery
2 shaft geared turbines, 25,000shp
Speed
32-34 knots
Range
3000 at 12 knots
Armament
2 x 4" (2x1)

4 x 2pd (1x4)

4 x 20mm (1x2 2x1)

Torpedoes
4 x 21" (2x2)
Complement
95
Notes
IRN Numancia

Launching a 3 funnel M class destroyer. M class destroyers laid up awaiting collection by their new owners.