IRN Blas de Lezo (DD-1942)
From 1935 the Iberian Navy was looking at replacements for the 24 'M' type destroyers that had been the backbone of the Iberian destroyer forces for 15 years. The design selected was the free offering from the Germania Werks Shipyard of their export destroyer class. This ship met all the needs of the Iberian Navy. The Iberian Navy made major changes to the armament as they wanted the ships to match the other ships of the fleet.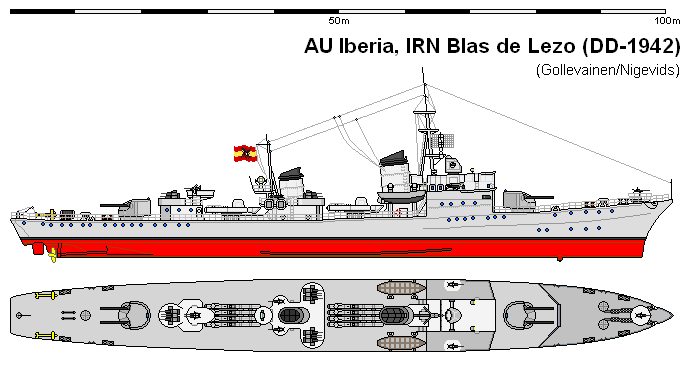 The Lezo class ships were handsome flared bow to flush deck, two funnelled ships. The large bridge with the HA/LA director, early radar matress and other command and control functions. Mine rails could be fitted from abreast the after funnel to the stern of the ship on which 50+ mines could be carried. The anti-aircraft eqipment carried was dictated by the operational requirements and the need to protect the remaining capital ships of the Iberian Navy.
Ordered in pairs from 1939, the first pair had barely been begun when war broke out and another pair were ordered right away with another set of four six months later and the last two sets of four at six monthly intervals thereafter.
Displacement
1,550 tons std, 2,150 tons full load
Length
331.5 ft
Breadth
36 ft
Draught
12 ft
Machinery
2 shaft geared turbines, 37,000shp
Speed
34 knots
Range
4000 at 15 knots
Armour
1.5" turrets
Armament
4 x 4.5" (2x2)

12 x 2pd (3x4)

7 x 20mm (1x2 5x1)

Torpedoes
8 x 21" (2x4)
Mines
Up to 60 mines could be carried
Complement
210
Notes
IRN Blas de Lezo