IRN Alsedo (DD-1916 (1932-mod))
The Alsedo class had a chequered past prior to arriving for service with the Iberian Navy. Laid down in 1914 for the Turkish Navy as a class of four destroyers they were taken over by the Royal Navy in November 1914 and completed in early 1916. All four ships were present at the Battle of Jutland where one of the class was sunk having been rammed by the battleship Westfallen. All four ships had been completed with the requirements for a destroyer leader as the Royal Navy was very short of vessels that could be used as leaders to the hundreds of L, M, R & S, class destroyers built or building. The remaining three vessels were kept busy as leaders for the rest of the war. Being built to non-Royal Navy standards they were some of the first destroyers to be put up for sale in 1919. They were perfect to go with the 20 M class the Iberians had purchased and the 4 M type they had built for themselves.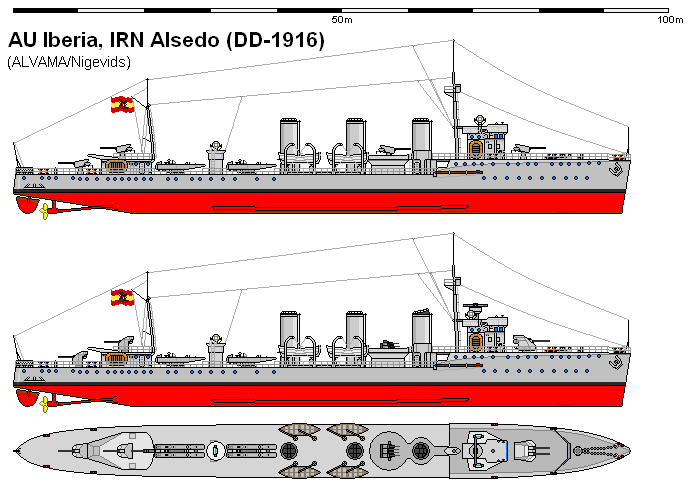 The class as built had a whaleback foredeck which was supposed to aid seakeeping. The foredeck mounted two of the five 4" low angle single mountings in echelon positions. That is shown quite clearly in the photo below. The three other 4" guns were fitted between the first and second funnel and the last two mounts aft with a superfiring mount on a bandstand above the other. Two twin 21" torpedo tubes completed the armament. Two 47mm/2 pounder AA guns were fitted in 1917.
In 1930 the three ships were modernised for another ten years of service. This entailed the replacement of the two side-by-side 4" on the foredeck with a twin 4" mounting with AA capability. The 4" gun between the funnels was removed and replaced with a quad 2 pounder mounting. Eventually half a dozen 20mm were fitted beside the two masts and beside the searchlight tower between the torpedo tubes. The aft single 4" were upgraded onto dual purpose mountings with a new shield.
Displacement
1,150 tons std, 1,550 tons full load
Length
309 ft
Breadth
28 ft
Draught
10 ft
Machinery
2 shaft geared turbines, 25,000shp
Speed
32 knots
Range
3000 at 15 knots
Armament
4 x 4" (1x2 2x1)

4 x 2pd (1x4)

6 x 20mm (6x1)

Torpedoes
4 x 21" (2x2)
Complement
130
Notes
IRN Alsedo

IRN Lazaga

IRN Velasco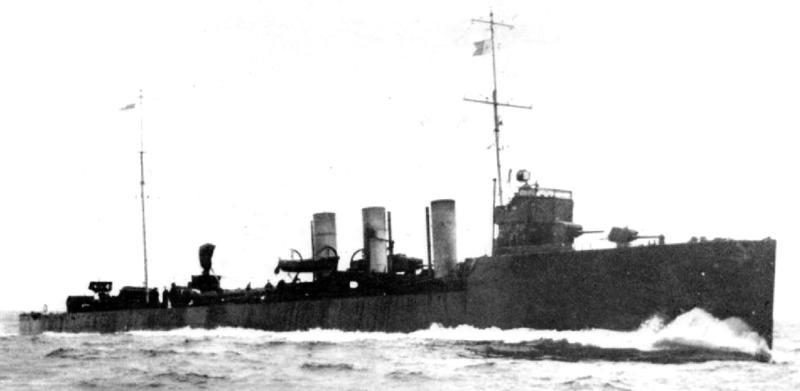 Hawthorne Leslie designed Leaders for Turkey, taken over by the Royal Navy and provided excellent service for the Iberian Navy.