IRN Albuquerque (PV-1936)
The Iberians required long range patrol vessels due to the placement of their colonies all over the world, from Macau to Mozambique and back to Iberia, each leg being half a worlds travel. The Albuquerques were the length of destroyers with the breadth of light cruisers - they were tubs. But they were exactly what Iberia required. The extra width allowed for a twin set of diesel engines with enough power to get the ships up to 20 knots which when cruising at 10-12 knots could take them nearly 9000 miles. That was again where the width came in, larger fuel tanks.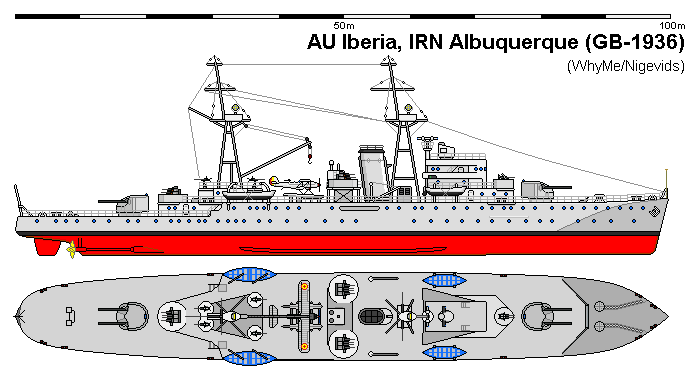 With two twin 4.5" turrets they were armed as well as most destroyersand definitely better armed than the Pirates that was one of their prime roles, hunting pirates. The aircraft handling facilities were rudimentary, a cradle to place the aircraft on and to which it could be strapped down on in bad weather. For launching the aircraft had to be swung over the side and take off from the sea. The aircraft, when it could be used, was a definite advantage to guide or spot for the ship. It was extremely useful as an extra 'pilot' to assist with the navigation in the barely charted waters in the East Indies and South China Sea, guiding the ship through the dangers of shoal waters.
Displacement
2,500 tons std, 3,250 tons full load
Length
327 ft
Breadth
44.5 ft
Draught
12 ft
Machinery
2 shaft diesel engines, 7,500bhp
Speed
20 knots
Range
10,000 at 10 knots
Armour
1.5" turrets
Armament
4 x 4.5" (2x2)

12 x 2pd (3x4)

6 x 20mm (1x2 4x1)

Complement
190
Notes
IRN Albuquerque

IRN Oquendo

IRN Salazar

IRN Blanco