GRN Ploesti (AC-1911 (1934-mod))
The ex-Austro-Hungarian Sankt Georg had been one of the best designed Armoured Cruisers / Battlecruisers of the first round of building the "Dreadnought Cruisers". The propaganda by the British that Invincible would be armed with 9.2" guns fooled the world and almost all of the major powers built what were essentially armoured cruisers in reply, with guns of the same size. The Austro-Hungarian Navy did the same and the Sankt Georg was built with 9.4" guns the same size as the secondaries on the Radetzky class semi-dreadnoughts.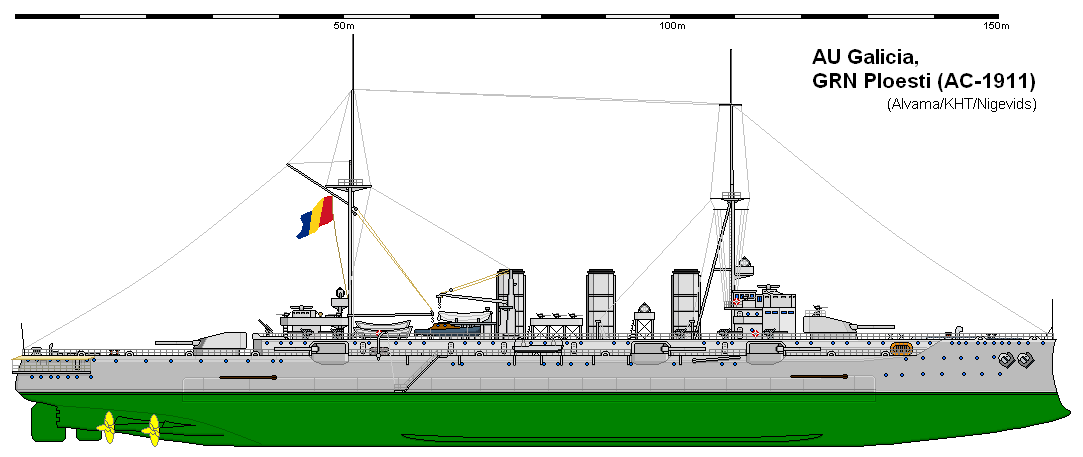 Three major designs were drawn up, one with casemate 9.4" guns, one with echelon 9.4", and one with superfiring 9.4".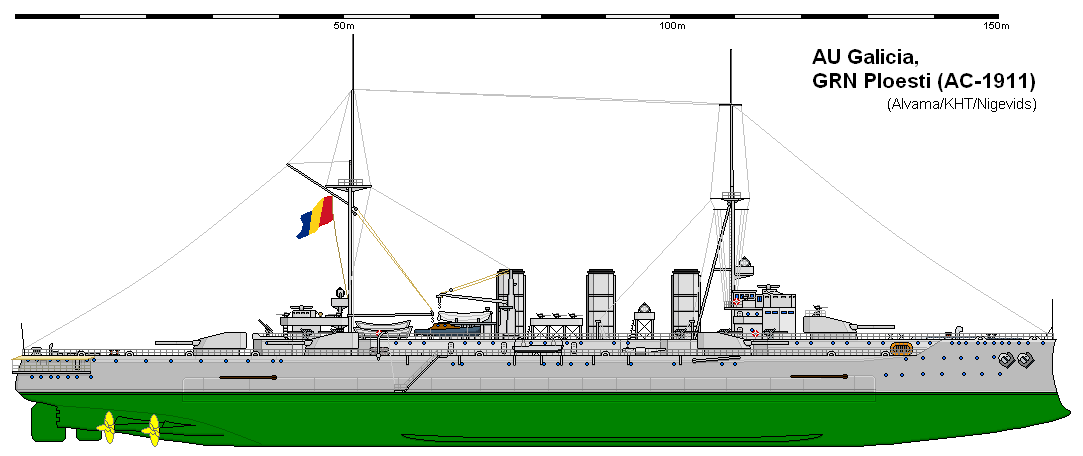 The echelon design allowed for a set of torpedoes but did not have an armament between the 9.4" and 88mm anti-torpedoboat guns.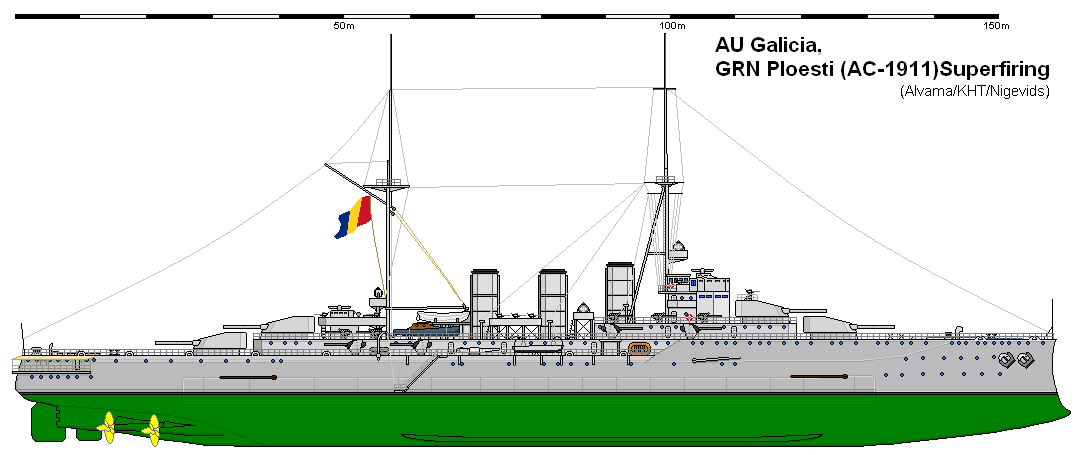 The superfiring option (and eventual winner) gave the same broadside as the echelon type but with two less turrets the space from which could be mounted a secondary armament of 5.9". The torpedoes were kept and the design was put into production. Four were to be built but three were cancelled when it was learned that the Invincibles were armed with 12"guns. Only the Sankt Georg was to far advanced not to be cancelled. Surviving WW1 after various solo raids on the coast of Italy and the end of the warring armies, the ship was passed on to the Galician Navy and was the first ship to arrive in the Black Sea and was used as the Fleet Flagship till the arrival of the battleships. The ship continued as a flagship which the Flag quarters in the stern made the ship very suitable for.

The plans for the two new cruisers were on hand when it was decided that the Ploesti would be retained and used as a training ship and AA escort to the Harghita aircraft carrier. New bridge, funnels and other upperworks were copied from the new cruisers being built at the same time this ship was being refurbished. The boilers were replaced but the old engines were retained as being in good enough condition for its intended role.
Displacement
As built 1911

16,700 tons std

20,250 tons full load

As rebuilt 1936-37

17,100 tons std

21,000 tons full load

Length
529 ft
Breadth
77 ft
Draught
27 ft
Machinery
4 shaft steam turbines, 40,000shp
Speed
26 knots
Range
7000 miles at 12 knots (2500 at 24knots)
Armour
7.6" side, 2.8" deck, 7"/4.1"/2.8" turrets
Armament
As built

8 x 9.4" (4x2)

8 x 5.9" (8x1)

10 x 88mm (10x1)

12 x 13mm mg (12x1)

As Rebuilt 1936-37

8 x 9.4" (4x2)

16 x 88mm (8x2)

8 x 37 mm (4x2)

24 x 20mm (24x1)

Aircraft
nil
Torpedoes
4 x 17.7" (2x2)
Complement
1050
Notes
GRN Ploesti