GRN Dobruja (CL-1928+)
First major warships to be designed and built from scratch at Constanta naval shipyards, the design work was done in conjunction with British shipyards as Galicia had had no previous experience in this area. Based on the UK E-class cruiser, the guns were refurbished weapons removed from a Radetzky class pre-dreadnought and fitted into twin turrets. The first eight twin turrets were purchased complete and were the same type as were fitted to the Nelson class battleships. Where those turrets had 60 degrees elevation these export models were reduced to 45 degrees elevation. This did not affect the 25,000 yard range of the guns. Over the next ten years 6 of these handy cruisers were built utilising the refurbished 5.9" guns removed from the rebuilding of the battleships. The class ended up in three batches due to fiscal constraints, the batch 2 and 3 units benefited from the delays as their designs were upgraded with knowledge and new equipment from the first years of service of the Batch-1 ships.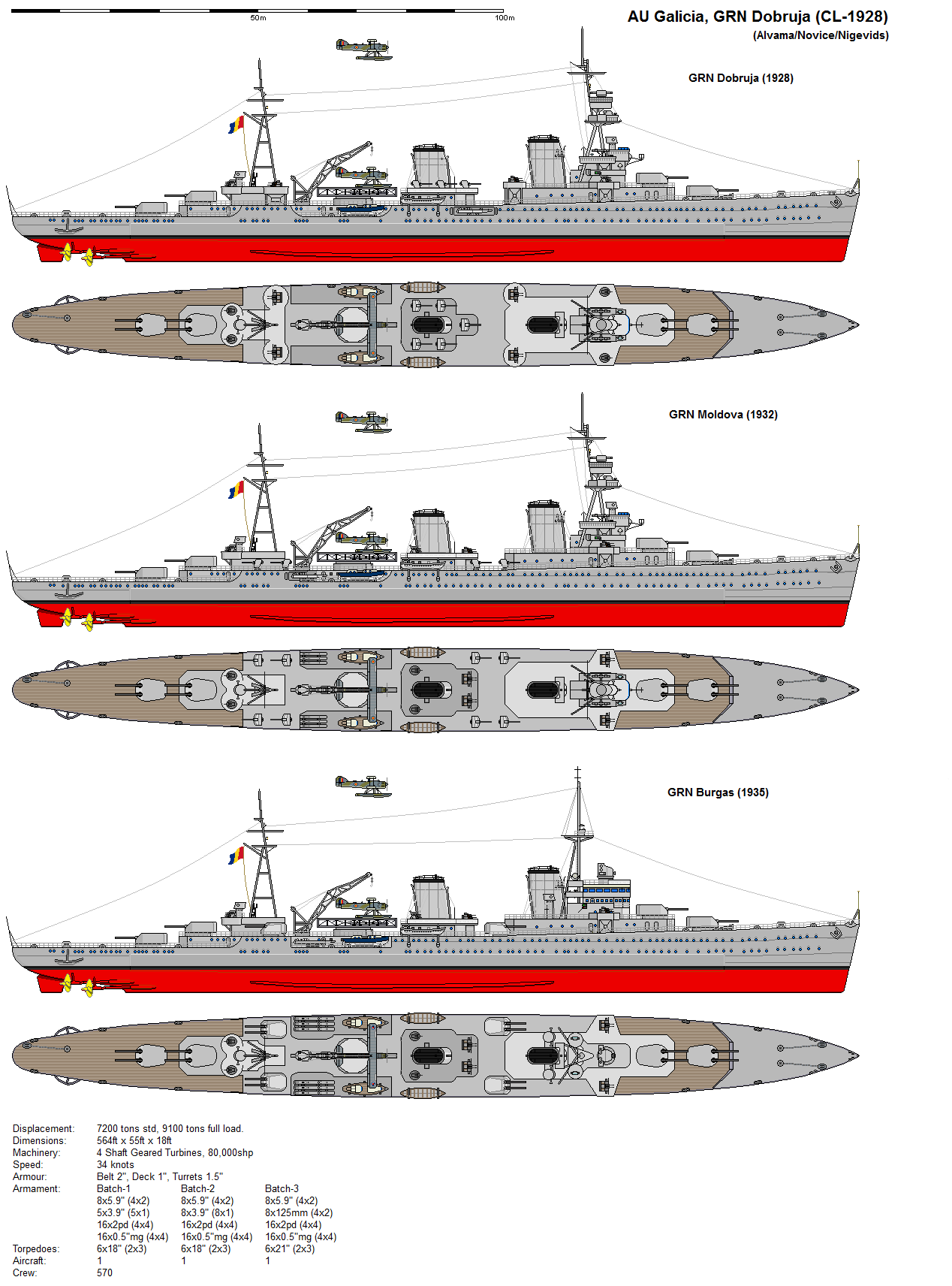 These were fast ships and used in conjunction with the battlecruisers made up handy cruiser squadrons. Two of this class and one Wallachia class provided Galicias Adriatic Fleet.
Displacement
7,200 tons std 9,100 tons full load
Length
564 ft
Breadth
55 ft
Draught
18 ft
Machinery
4 shaft steam turbines, 80,000shp
Speed
34 knots
Range
5000 miles at 15 knots (2500 at 32 knots)
Armour
2" side, 1" deck, 1.5" turrets
Armament
Batch- 1

8 x 5.9" (4x2)

5 x 3.9" (5x1)

16 x 2pd (4x4)

16 x 0.5"mg (4x4)

Batch - 2

8 x 5.9" (4x2)

8 x 3.9" (8x1)

16 x 2pd (4x4)

16 x 0.5"mg (4x4)

Batch - 3

8 x 5.9" (4x2)

8 x 4.9" 125mm (4x2)

16 x 2pd (4x4)

16 x 0.5"mg (4x4)

Torpedoes
6 x 18" (2x3)
6 x 18" (2x3)
6 x 21" (2x3)
Aircraft
1
1
1
Complement
570
Notes
GRN Dobruja
Original drawing of my Dobruja class ships which have been upgraded with the above ships
5,200 tons standard, 6,100 full load.

420 ft long, 56 ft breadth, 18 ft draught.

Machinery was 40,000shp, 2 shafts.

Speed 28 knots.

Armour - 2.8" side, 1.5" deck, 1.5" gun shields.

Armament: 7x5.9" (7x1), 4x3.4" (4x1), 10x20mm (10x1), 4x21" torpedoes