CSS Santa Fe (CL-1918)
Back to Condfederate States List
The Santa Fe class followed on from the Tijuana class of cruisers. An extra 25 feet of length enabled the ships to have the internals redistibuted and a new armament distribution as well. The Tijuana had six 6" but could only fire 4 per broadside. The Santa Fe's had seven 6" but could fire six guns per broadside. A 50% increase in firepower.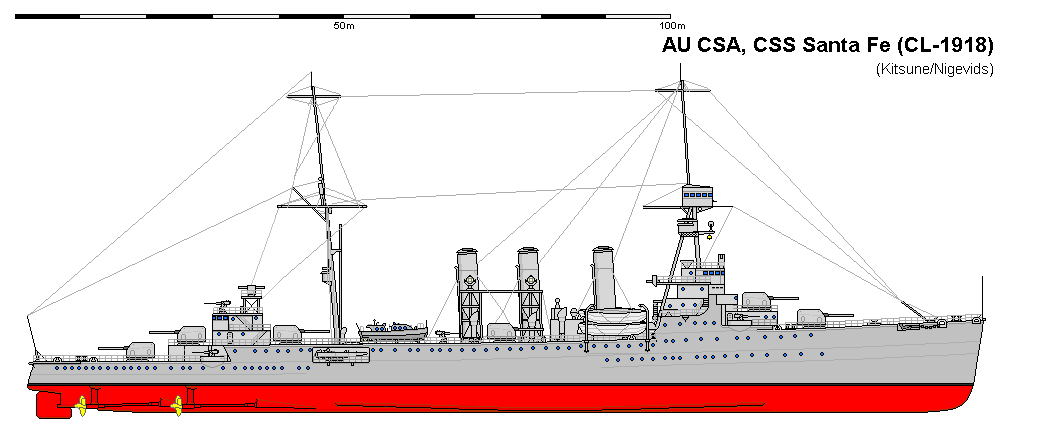 The single six inch turrets distribution was not completely ideal but was much better than the previous class. Being completed so late in the First World War, the ships did not get to Europe and were allocated to the Pacific Fleet. The increase in length also had the advantage of fining down the hull and allowed an increase in speed from 28 to 30 knots. the single 3" were persevered with, seven guns being fitted. The two sets of triple torpedo tubes was kept with and were retained through its rebuilding.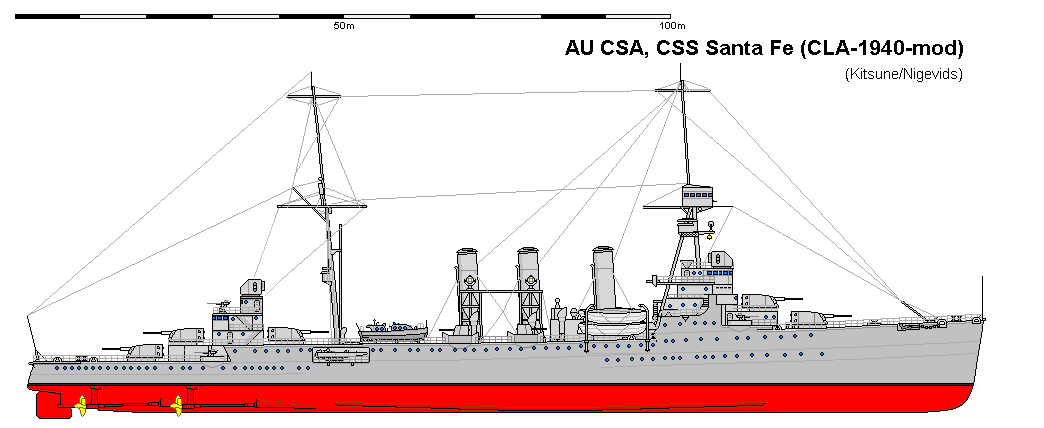 The Pacific fleet during the 1920's and early 1930's was all about learning to play with aircraft carriers. During this time the Scouting Unit of the Pacific Fleet consisted of a Wake Island class aircraft carrier, a Cuba class battlecruiser, 2 Tuscaloosa class cruisers (mid 20's on) and 2 to 4 of either the Tijuana or Santa Fe class cruisers. During the late 1930's the ships were taken in hand for conversion to anti-aircraft cruisers. This is where the internal layout changes from the Tijuana class really paid off in that the ships could be fitted with 5 twin 5" 38cal turrets, which coupled with 2 HA/LA directors, gave the ships a great increase in volume of firepower against both surface and air targets. One of the major differences in the conversion of the Commonwealth cruisers compared to the CSN ones was that the CSN vessels were not fitted with anti-submarine armaments or detection gear. CSN doctrine of the time did not allow for cruisers of any size to chase after submarines.
Displacement
5,900 tons std 7,300 tons full load
Length
479.5 ft
Breadth
46 ft
Draught
17.5 ft
Machinery
4 shaft steam turbines, 48,000shp orig
Speed
30 knots
Range
6000 miles at 15 knots (2,100 nm at 27 knots)
Armour
3" side, 1" deck, 2" turrets
Armament
7 x 6" (7x1)

7 x 3" (7x1)

10 x 5.1" (5x2)

16 x 40mm (4x4)

10 x 20mm (5x2)

Aircraft
nil
Torpedoes
6 x 21" (2x3)
Complement
415
Notes
CSS Santa Fe