CSS Manzanillo (CV-1942)
Back to Condfederate States List
Though the various ship building restriction treaties had expired 1930-32, the Confederate States Navy already had the three aircraft carriers of the San Juan class ordered or under construction and it was not untill 1935 that design work on the next generation of CSN carriers was started. The trials with the San Juan during 1935-36 showed that a larger ship 150-200 feet longer and 25-30 feet broader could easily be built with more survivability traits built into it than the San Juan type. The ships would be huge. Displacement somewhere around the 45,000 to 50,000 tons would be required to build the monster. The same power plant as under design for the Alabama class was co-opted for the Manzanillo class as well. The CSN was never a rich navy and anything that could be done to save a few dollars was done.

The ship that was ordered in 1938 was huge. They were designed to provide air supperiority wherever they chose to be. Further orders were placed in 1939 and 1940 for two more with a further two ordered in 1941. The three ordered in 1942-43 were eventually cancelled and the material gathered for them diverted to more pressing construction work.
The defensive armament of 12 x 5.1" in single fully automatic mountings gave a very good barrage capability while as the RADAR control of the weapons increased, accuracy became better all the time. Loads of 40mm and 20mm cannons were mounted for close in defence. The 20mm slowly being phased out in place of quad and single 40mm weapons.
Only one centerline elevator was fitted just behind the catapults for delivering ready aircraft directly for dispatch. The other two elevators were mounted on the side of the hull servicing both hangar decks.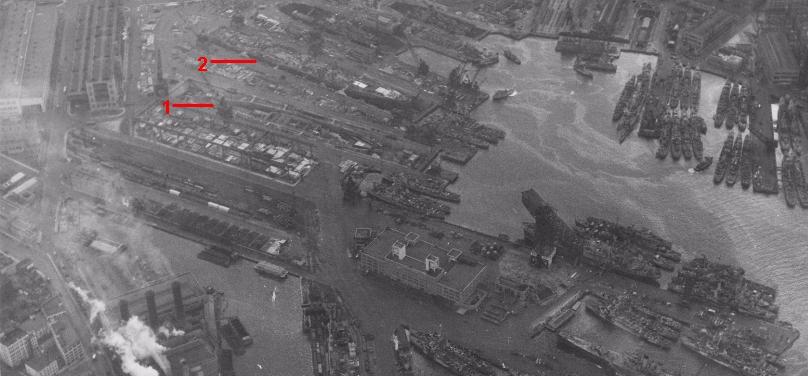 1 & 2 are the Manzanillo and Manila Bay under construction 1940.
Displacement
48,000 tons std 62,250 tons full load
Length
1027 ft
Breadth
117.5 ft hull
Draught
30 ft
Machinery
4 shaft steam turbines 190,000shp
Speed
32 knots
Range
11000 miles at 15 knots (3,800 nm at 26 knots)
Armour
4" side, 4" deck 1.5" FD
Armament
12 x 5.1" (12x1)

72 x 40mm (18x4)

40 x 20mm (40x1)

Aircraft
140
Complement
3200
Notes
CSS Manzanillo

CSS Manila Bay

CSS Guam

CSS

CSS

The F7F Tigercat along with the De Havilland Hornet series of twin engined fighters are to my mind some of the most beautiful fighter aircraft produced.