CSS Greenbow (DDE-1942)
Back to Condfederate States List
Every time I see the name I gave this class I want to shout out "Run Forrest Run", but i'm sure thats something to do with that other universe somewhere. Washburn came from D.W. Washburn the song from the group the Monkees.
The Greenbow class were an extension of the Washburn class frigates. The extra 27 feet that turned a class of Frigates into Destroyer Escorts housed one major item, a set of triple 21" torpedoes. These triple torpedo sets the Confederate States Navy had in store in abundance from the removal of 3 sets off each of the Lee Class when those ships were converted from full destroyers to destroyer escorts. The extra hull space was utilised for a slightly more powerfull set of machinery while the extra deck space was used to provide extra accomodation. The extra accomodation was required as one of the new roles for this class was to provide a ship to carry the Escort Commander.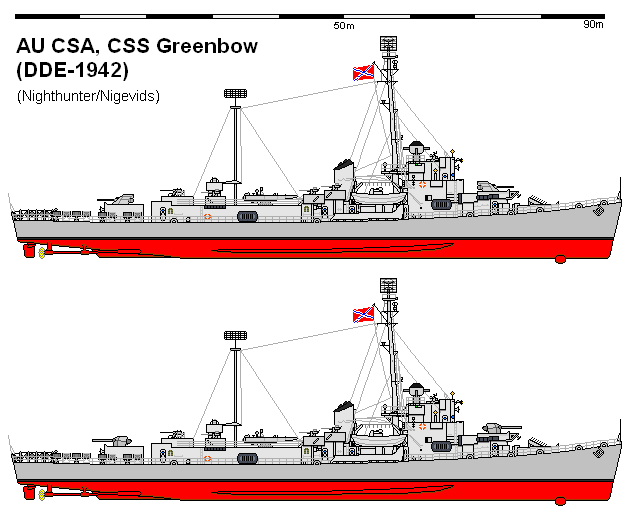 The class had a blip in construction during the 1942 steel crisis when some ships were complete but lacked the main armament. As an interim measure on these five ships they were fitted with a single 5.1"/1925mod gun mounted on an AA mounting to give a dual purpose weapon. Otherwise they were identical to the rest of the class. The larger hull provided space for that mentioned above but also more fuel stowage and space for a mainmast which increased the radar receivers mounted on the masts.
Displacement
1,500 tons std 1,850 tons full load
Length
304 ft
Breadth
34 ft
Draught
10 ft
Machinery
2 shaft steam turbines, 20,000shp
Speed
26 knots
Range
6000 miles at 15 knots (1500 nm at 23 knots)
Armour
Nil
Armament
4 x 3.9" (2x2) or 2 x 5.1" (2x1)

2 x 40mm (1x2)

6 x 20mm (6x1)

Aircraft
nil
Torpedoes
3 x 21" (1x3)
Complement
180
Notes
CSS Greenbow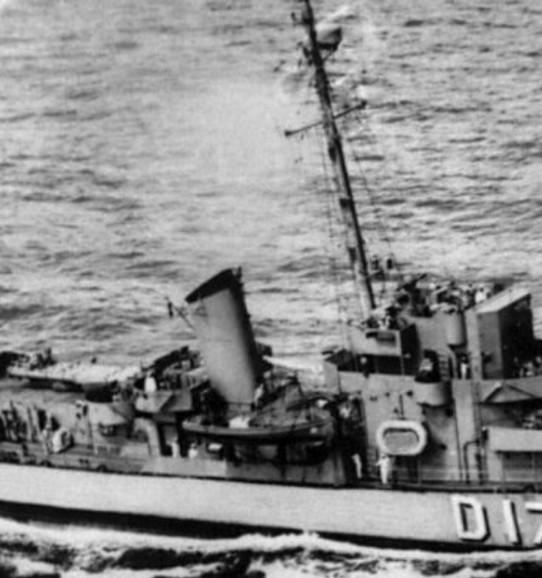 Midships of the Greenbow class showing the triple torpedo tubes that differentiated this class from the earlier Washburns.