CSS Cape Fear (1938+)
Back to Condfederate States List
In 1935 the Confederate States Navy started designing the replacement minesweeper type for the WW1 Santee River class. Although WW1 was 17 years prior, that war had shown the need for multi-role small vessels for the anti-submarine, minesweeping and coastal minelaying duties. The Santee River class had undertaken those sorts of duties and the new class was to be an improvement. The improvement was to be in the gear available for each of the roles the ship could undertake. With three sets of fittings for each of the types major roles being available at the ships home port. Transfer from duty to duty was the speed at which the interchange of gear could take place. This was only hours.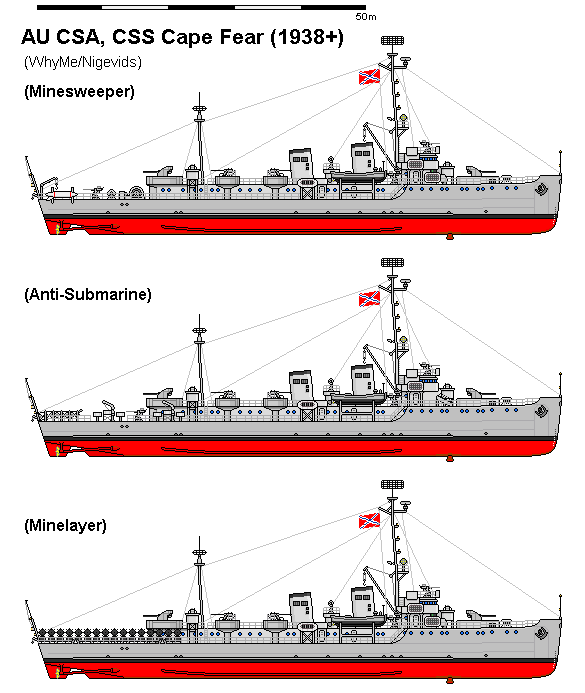 While this was commendable in the design stage the reality of war broke down this usefulness as ships were transferred from station to station with little notice. The ship had to be in the correct configuration for each transfer. This transfer between duties eventually led to most of the class being set up for its A/S escort duties with a few being kept in the M/S configuration. Once the coastal minelaying had been completed those craft that were in the M/L configuration were converted to the A/S configuration and allocated to the Escort commands, local vessels would monitor and maintain the local minefields.
The armament was the standard basic two 3.9" single guns on dual-purpose mountings, with one foreward and one aft. The real armament was the fitting of the four twin 40mm mountings amidships which with the 3 controller points directing their fire proved of inestimable value. Radar and asdic were important, the asdic especially so as it was used for identifying minefields when the ships were in minesweeping mode.
These ships were not fast, they were not sexy, but the CSN high command would have swapped a battleship for 40 more of them just about any year from 1940-44. Like all escort vessels, there were never enough of them.
Displacement
1,250 tons std 1,700 tons full load
Length
262 ft
Breadth
34 ft
Draught
10 ft
Machinery
2 shaft diesel electric, 10,000shp
Speed
24 knots
Range
6500 miles at 12 knots (1200 nm at 24 knots)
Armour
Nil
Armament
(Minesweeper)

2 x 3.9" (2x1)

8 x 40mm (4x2)

5 x 20mm (5x1)

(Anti-submarine)

2 x 3.9" (2x1)

8 x 40mm (4x2)

5 x 20mm (5x1)

(Minelayer)

2 x 3.9" (2x1)

8 x 40mm (4x2)

3 x 20mm (3x1)

Mines
nil
nil
30-40 (on type)
Complement
120
Notes
CSS Cape Fear

Depot-Mothership for minesweepers, with 5 Cape Fear class vessels on left of photo.