HMSAS Springbok (ML-1943)
Back to Commonwealth Ships List
Back to Southern African Navy list:
Up till 1940 the Southern African minelaying force was two old converted pre-dreadnoughts of the King Edward class that had been received in a demilitarised condition and were used in various training roles but had also been fitted as auxiliary minelayers for which their broad open deck plan made them very suitable. But they crawled. With a maximum 12 knots the ships were only good for laying and maintaining the home fields. Some destroyers were fitted for minelaying but the quantity that could be carried meant it took ages to lay a decent field. The answer was to build some purpose built minelayers. Two were laid down in 1940.

The two ships were to be greyhounds and their names of Springbok and Cheetah certainly showed what the Southern African designers wanted their speed to be. They were not unhappy with the result. With engines of 100,000shp the ship made 43 knots on trials. The armament and forward superstructure sections wer a direct copy of the Capricorn class but the after 4.5" turret and all ASW armament and torpedos were not fitted to make room for the deadlier cargo of mines.Where a lot of minelayers were completed with a mine deck to give weather protection to the mines in transit, these two ships carried an open deck policy. As with all minelayers the major opponent came from the air and the AA outfit of these ships showed their acknowledgement of this. The ships were fitted with a powerful Asdic set as where the Allies thought a minefield might cause havoc for the enemy the enemy may have already decided to protect the area with a minefield. Having the Asdic set allowed the ships to be able to find enemy minefields.
Displacement
3050 tons std, 4200 tons full load.
Length
450 ft
Breadth
43 ft
Draught
12 ft
Machinery
2 shaft Steam turbines, 100,000shp
Speed
43 knots
Range
6000 miles at 15 knots, 1800 @ 35 knots
Armour
nil
Armament
4 x 4.5" (2x2)

12 x 40mm Hazemeyer (6x2)

4 x 40mm (4x1)

Mines
160 large 200 small
Torpedoes
nil
Complement
250
Notes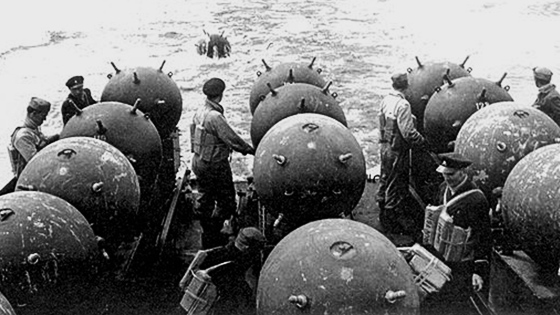 Back to Commonwealth Ships List