HMS Endymion (CL-1938)
HMSAS Bechuanaland (CL-1938)
Back to Commonwealth Ships List
Back to Southern African Navy list:
Probably the most important design of light cruiser the Royal Navy produced, the first of the class to complete was the HMAS Newcastle in 1937 and a total of 34 ships were completed to the design in 4 batches. 4 Australis type (1937+), 16 Town type (1938+), 10 Colony type (1941+), and the 6 Superb type (1944+), two of the Colony type were built by Southern Africa.

Being the same length as the Leander type theses ships were widened by 7 feet to take a triple turret but also to fit the 4.5" twin turret as the secondary armament. Engine power needed to be increased to make up for the stubbier hull. The aircraft handling facilities on the original Town type started being removed from 1941 while the Colony type onward never had them fitted. Some of the class had to have the twin 4" fitted in place of the 4.5" turret as a shortage of these turrets occurred in 1942 and the Admiralty prioritised the O-Z destroyers for those that were available.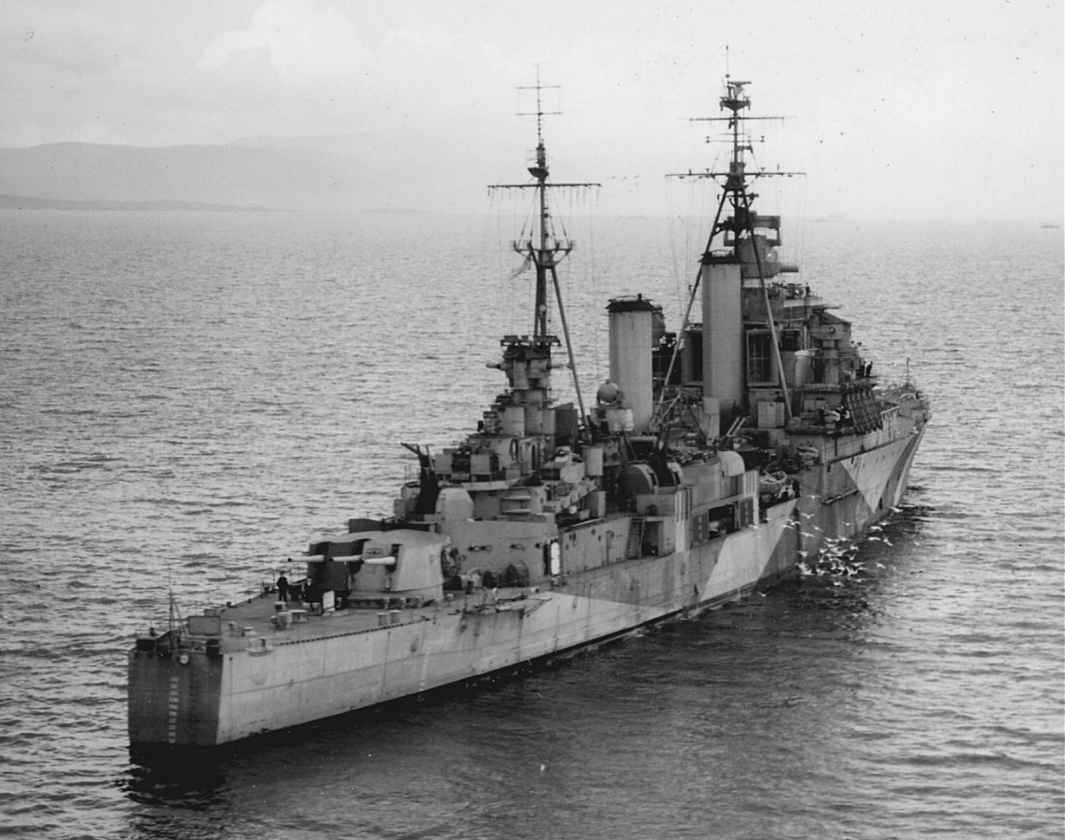 Displacement
7,500 tons std 10,400 tons full load
Length
555 ft
Breadth
63 ft
Draught
22 ft
Machinery
2 shaft steam turbines, 80,000 shp
Speed
32 knots
Range
6000 miles at 18 knots
Armour
4" side, 2" deck, 3" turrets
Armament
9 x 6" (3x3)

10 x 4.5" (5x2)

24 x 2pd (6x4)

5 x 40mm (5x1)

Aircraft
3
Torpedoes
6 x 21" (2x3)
Complement
710
Notes
Royal Navy ships:
Town Type: HMS Falmouth, HMS Nottingham, HMS Birkenhead, HMS Chester, HMS Sheffield, HMS Manchester, HMS Belfast, HMS Edinburgh, HMS Endymion, HMS Isis, HMS Arrogant, HMS Highflyer, HMS Challenger, HMS Amphitrite, HMS Diadem, HMS Europa.
Colony Type: HMS Mauritius, HMS Honduras, HMS Jamaica, HMS Nigeria, HMS Kenya, HMS Fiji, HMS Trinidad, HMS Ceylon, HMSAS Uganda, HMSAS Bechuanaland
Superb Type: HMS Superb, HMS Swiftsure, HMS Astraea, HMS Canopus, HMS Agamemnon, HMS Bellerophon